How to sterilise and decontaminate
https://9now.nine.com.au/a-current-affair/coronavirus-how-to-disinfect-your-house-during-covid19-pandemic/510ede3e-190c-4b80-b68b-5b5d11476d60
How to disinfect your house during the COVID-19 pandemic
Expert hacks and cleaning routines
What can you do to minimize the risk of infection in your own home?
"The primary goal is to get as much dust out as we can, and then to leave every single surface disinfected and perfectly cleaned," Michael Sweet of 1800 Cleaner told A Current Affair.
Mr Sweet says we need to focus on five key areas in our own homes – the bathroom, the kitchen, the workspace, and touchpoints, and we should get rid of as much dust as possible. The key is to wash, not wipe.
Put ten sprays of multi-purpose cleaner into a bucket of hot water to clean the bathroom sink.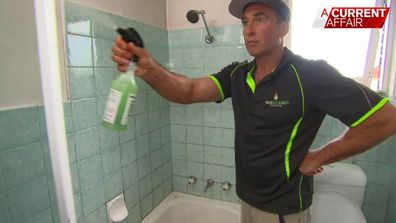 "That'll take a couple of minutes to get to work and then the sponge is going to do all that hard work for us. Particularly the handles, you want to get those disinfected," Mr Sweet said.
He suggests using the same method on the toilet, bath and shower with a microfiber cloth to wipe.
It's recommended you wear gloves and a mask while cleaning.
When it comes to the kitchen, work from top to bottom using an everyday multi-purpose cleaner.
"So normally we clean the things we can see, but now it's particularly important to clean the things we can't see," Mr Sweet says of cleaning the top of the kitchen cabinets.
"Particularly on the handles – get that spray nice and wide so there's now a layer on top of all that and that's eating away at anything nasty."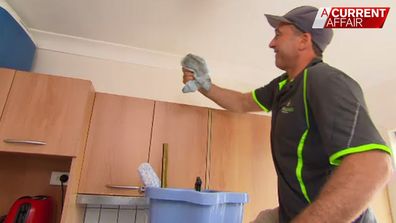 According to Mr Sweet, we should thoroughly clean our bathrooms and kitchens every week, while some other areas of the house can be cleaned every fortnight.
"When you think about it, how many people's hands are on these all day long? We like to still wet wash, not wipe, and by using the microfiber cloth, that's actually like a sponge now."
Door handles and light switches must be thoroughly wiped with a multi-purpose cleaner, then it's time to vacuum.
Some essential cleaning products have proven difficult to get our hands on, and several retailers have been accused of price gouging.
So here's how you can make your hand-sanitiser, spray and wipe, and disinfectant wipes using ingredients you may already have at home.
"I think it'll take us about three minutes to make hand-sanitiser," cleaning and organising expert Anita Burgess told A Current Affair.
The ingredients – Isopropyl alcohol, aloe vera gel, and Anita's also using essential oils for the smell. You can use coconut oil instead.
"To start, we need to use our rubbing alcohol, our Isopropyl. And the ratio is two-thirds to one-third of aloe vera. I'm going to use Eucalyptus today and be generous, you can do about 10 drops," says Ms Burgess.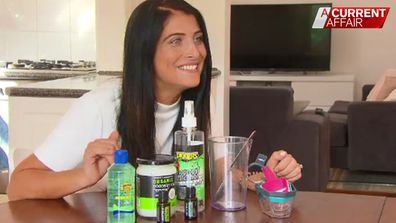 Mix and pour and you've got hand-sanitiser. You'll need distilled water, hydrogen peroxide and Castile soup to make Ms Burgess's multi-purpose spray and wipe.
"We are going to use one cup of distilled or demineralised water, then we're going to use one cup of hydrogen peroxide, then we're going to use one tablespoon of castile soap," she explained.
Ms Burgess is adding essential oils, and she's using a bottle she has at home to store it.
"Go and get yourself some hand towel, it's around now. I want you to cut it in half, and pop it into your container."
"All we need for this is two cups of water, then we're going to use one cup of isopropyl or hydrogen peroxide, four drops of dishwashing liquid, that's it."
Mix well, pour, shake, remove the centre and you've got disinfectant wipes. Easy as that.