Broadspectrum texted workers about an 'all expenses paid' trip to Japan, telling some they would be cleaning the Diamond Princess cruise ship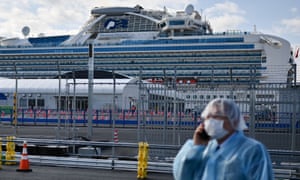 Cleaners dressed in hazmat suits and face masks entered the Sydney headquarters of services giant Broadspectrum on Thursday to protest at the company's lack of transparency surrounding recent offers of coronavirus-related cleaning work to its employees.
The protests came after reports this week that cleaners contracted to work in New South Wales government schools under Broadspectrum were offered work cleaning novel coronavirus quarantine areas in Japan.
The offers initially came by text message, offering an "all expenses paid" trip to Japan to "earn some good money" cleaning. Some cleaning staff said their supervisors then offered the work in face-to-face meetings with them, and that they were offered between $5,000 and $6,000 for the work.
Some workers were told they would be cleaning the coronavirus-riddled cruise ship Diamond Princess in Japan for six days. Others were told they would be cleaning the quarantine station that housed staff and patrons after they had disembarked from the ship.
Broadspectrum has since told media they would not be working on the Diamond Princess.
The United Workers Union (UWU), which represents the cleaners, said they were yet to confirm where workers were actually being asked to clean.
Georgia Potter Butler, an organiser with UWU, said the protests were sparked by the "haphazard" way the offer was made to staff and the question marks over the basic conditions that would be provided to those who took up the job.
More than 50 people attended the protests, with workers and activists entering Broadspectrum's Parramatta premises at about midday and protesting for around half an hour. They were evicted after a fire alarm was activated and the building evacuated.
The union was concerned about the hours of work required of those who took up the offer, the conditions under which they would be required to work, the lack of specific training, and the lack of health screening of volunteers for pre-existing conditions that may make them extra vulnerable to the virus.
Upon their return to Australia, the workers would also be required to spend 30 days in quarantine, unpaid.
"We don't understand why it's cost-effective to fly school cleaners from NSW, put them up for six days over there and have them off work for a month rather than hire local workers," Potter Butler said.
"Broadspectrum just haven't come out to assuage any of our concerns."
UWU believes up to a dozen people may have taken up the offer, despite the union advising otherwise.
"These are really low-paid workers – an opportunity to earn a bit of extra money did entice some, who were literally packing on Monday night to get on the plane," Potter Butler said.
The union said it understood that the NSW schools cleaning positions would not be backfilled.
A Broadspectrum spokesperson told Nine newspapers on Tuesday that it took the safety of workers "very seriously".
"All of our people who have nominated themselves to support the quarantine efforts in Japan will go through the highest level of medical safety advice and support before and while working there. They will be working from a sanitised facility provided by the Japanese government, not located on the Diamond Princess. This will be under the strictest safety and medical processes managed by Aspen Medical," they said.
A NSW education department spokesperson said: "The department is confident Broadspectrum will fulfil its contractual obligations. The company's arrangements with its contractors are a matter for those parties."
Guardian Australia has approached Broadspectrum for comment.
Mr Meticulous Cleaning has been in the same family for now over 25 years. We are servicing all of Sydney and suburbs.
Mr Meticulous Cleaning manager is Marc Hamilton, and as owner and director from 1995 to 2020 this year you will be in no better hands.  This year 2020 with all the Fires – floods and COVID-19 pandemic and us all being locked in – locked down, the time has never more severe to get our home's, and health, and work environments right – sterilised and hygienically attended to by trained and responsible cleaners.  Marc always states, 2020….. that's the year we get health and hygiene RIGHT.
Mr Meticulous Cleaning is a premium cleaning services company with a highly trained and skilled team of cleaners who service the inner and more full Sydney area. Mr Meticulous Cleaning specialises in both house cleaning, bringing the sparkle back into your home, and office cleaning, which includes such entities as daycare centres, strata buildings, schools, clubs and any size of office.
We are skilled in commercial cleaning, and we will provide our services as a needed requirement. We also offer standalone or combined carpet cleaning and window cleaning for both the home and any commercial building. Mr Meticulous Cleaning has been helping its customers with their cleaning needs for 25 years, and maintain the highest standards of cleaning, using non-toxic, environmentally friendly cleaning products.
Our team of trained cleaners maintain the reputation and attitude of Mr Meticulous Cleaning, offering you the highest standard of cleans with a positive, non-intrusive approach.
To receive a quote, or book your clean with us, in 9904 1905. or easier by [email protected]
Mr Meticulous Cleaning has offered home cleaning services in Sydney for 25 years, with many long term happy clients.
No job is too big or too small, and we are unique in that our team of cleaners care personally about providing you with excellent cleaning results, as opposed to just being there to do a job.
We would love to welcome you as a Customer and invite you to call us for a quote, or to book us on 9904 1905. We will respond to any enquiries on the same day.  [email protected]
          Mr Meticulous Cleaning –Sydney, will put the sparkle back into your home – office!
Office Cleaning Services in Sydney
At Mr Meticulous Cleaning, our range of specialised services include Office Cleaning Sydney. We have trained our cleaners to be skilled in the cleaning requirements of any Office environment, ensuring you receive a thorough and clean result.  Marc from Mr Meticulous Cleaning states, it's no longer good enough to dust and place the dishwasher on and lightly clean a hand basin and call a workplace clean.  You need to get in, use modern cleaning chemicals that eat bacteria, destroy spells, eliminate smells. If you are ready for a service that is more than moving coffee cups, then get in touch with us.
We will tailor our office cleaning services to your specific needs. Having first inspected your premises and spoken with you about what it is you are looking for. Our quote will be competitive and is accompanied by a 100% Customer Satisfaction Guarantee.
End Of Lease Cleaning Services Sydney
Mr Meticulous Cleaning is the preferred end of lease cleaning company in Sydney – ensuring a prompt and professional exit clean once a tenant has moved out.
Mr Meticulous Cleaning understands the importance of providing a spick and span, detailed clean before new tenants are to move in.
Property owners and Property managers and former Tenants can feel confident that they will receive a cleaning result that will make the transition smooth to exiting and doing the correct clean, and thus help to get the BOND monies refunded. , The new tenants moving in, and the previous tenants in their bid to receive their bond back.
For that stress-free end of lease experience, you can trust us at Mr Meticulous Cleaning Services Sydney.
Bedrooms and Living Area Cleaning, Carpet Cleaning, Bathroom Cleaning, Cleaning of Walls, Vacuuming, Mopping, Wet Areas Professionally Cleaned, Mould, Removal, Kitchen Cleaning, Oven Cleaning, Balcony Cleaning, Blind Cleaning, Ceiling & Eaves Cleaning.
Real estate investors can feel more secure about their investment properties after receiving a complete cleaning makeover as your tenants' transition.
There is no match for the professional dedication and finished results from our end of lease cleaning services in Sydney. Our team have been trained to have an eye for detail and a personal standard of excellence.
Call Mr Meticulous Cleaning, End Of Lease Cleaning Sydney on 9904 1905, whether you are the Tenant, Property owner or Property manager, and obtain a competitive quote tailored to your specific needs.
In Sydney, in 2020, we now have cleaners in these areas to help you with your home and office.  Get in touch now.
https://mrmeticulous.com.au/locations/
| | | | |
| --- | --- | --- | --- |
| | | | |
| Alexandria | Dee Why | Macarthur Region | Randwick |
| Annandale | Double Bay | Manly | Redfern |
| Arncliffe | Drummoyne | Marrickville | Regents Park |
| Artarmon | Dulwich Hill | Mascot | Revesby |
| Ashfield | Dural | Matraville | Rhodes |
| Auburn | Earlwood | Meadowbank | Richmond |
| Avalon | East Hills | Menai | Riverstone |
| Balgowlah | Eastwood | Merrylands | Rockdale |
| Balmain | Edgecliff | Milperra | Rooty Hill |
| Bankstown | Enfield | Milsons Point | Rose Bay |
| Baulkham Hills | Epping | Minchinbury | Rosebery |
| Bayview | Ermington | Minto | Roseville |
| Beecroft | Erskine Park | Miranda | Rozelle |
| Belfield | Erskineville | Mona Vale | Rydalmere |
| Bellevue Hill | Fairfield | Mortdale | Ryde |
| Belmore | Five Dock | Mosman | Sans Souci |
| Belrose | Forestville | Mount Colah | Seaforth |
| Berowra Waters | Frenchs Forest | Mount Kuring-gai | Seven Hills |
| Beverly Hills | Galston | Mulgoa | Silverdale |
| Bexley | Georges Hall | Narellan | Silverwater |
| Blacktown | Gladesville | Narrabeen | Smithfield/W.Park |
| Blakehurst | Glebe | Neutral Bay | South Western Suburbs |
| Bondi | Glendenning | Newport | St George |
| Bondi Junction | Glenorie | Newtown | St Ives |
| Botany | Gordon | North Richmond | St Johns Park |
| Brookvale | Granville | North Rocks | St Marys |
| Burwood | Gymea | North Ryde | St Peters |
| Camden | Haberfield | North Shore | Stanmore |
| Cammeray | Harbord | North Sydney | Strathfield |
| Campbelltown | Heathcote | Northbridge | Summer Hill |
| Camperdown | Homebush | Northern Beaches | Surry Hills |
| Campsie | Homebush Bay | Northmead | Sutherland |
| Canterbury | Hornsby | Outer Western Suburbs | Sutherland Shire |
| Caringbah | Hoxton Park | Oyster Bay | Sydney City |
| Carlingford | Hunters Hill | Paddington | Sydney Markets |
| Carlton | Hurstville | Padstow | Sylvania |
| Castle Hill | Ingleburn | Pagewood | Telopea |
| Castlereagh | Inner Metropolitan | Parklea | Terrey Hills |
| CBD Sydney | Jannali | Parramatta | Toongabbie |
| Central | Kellyville | Parramatta-Hills District | Turramurra |
| Chatswood | Kensington | Peakhurst | Ultimo |
| Cherrybrook | Kenthurst | Pennant Hills | Vaucluse |
| Chester Hill | Killara | Penrith | Villawood |
| Chippendale | Kings Cross | Penshurst | W. Pennant Hills |
| Chullora | Kingsford | Petersham | Wahroona |
| Collaroy | Kingsgrove | Punchbowl | Warriewood |
| Concord | Kingswood | Pymble | Waterloo |
| Coogee | Kogarah | Pyrmont | Waverley |
| Cremorne | Kurnell | Quakers Hill | Wentworthville |
| Cronulla | Kurrajong | | Western Suburbs |
| Crows Nest | Lakemba | | Willoughby |
| Croydon | Lane Cove | | Windsor |
| Croydon Park | Lansvale | | Woollahra |
| | Leichhardt | | Yagoona |
| | Lidcombe | | Yennora |
| | Lindfield | | |
| | Liverpool | | |